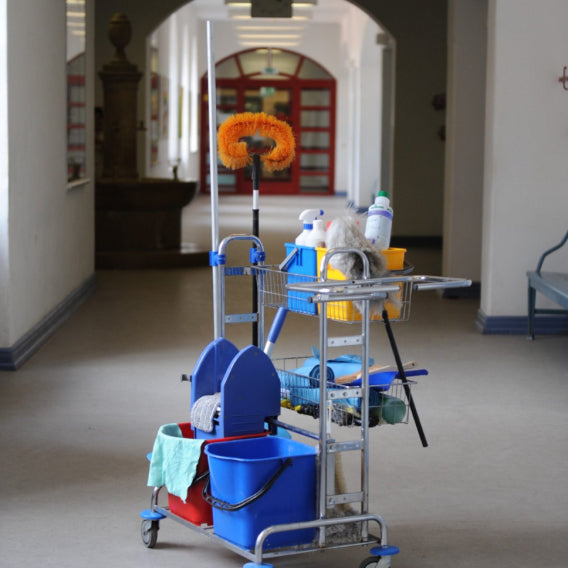 The summer's finally here, and school is out for the season. Now that classrooms will be empty, there won't be hundreds of kids shuffling around the school, and you can finally focus on organizing the mayhem from the year, make sure that the physical spaces in your school are as clean as possible, so you minimize the amount of maintenance and cleaning work you'll have to do when everyone returns in the fall. 
Here is a checklist you can follow to help ensure your school is clean, healthy, safe, and well-maintained so you can head into the summer with peace of mind. Consider using green cleaning supplies to have minimal impact on the environment and create a safe space for everyone to learn and play in.
Cleaning The Classroom
Start your cleaning in the actual classroom. Here are some tasks to complete to make sure every room is tidied and ready to be locked up for the season.
Make sure desks and cubbies are empty

Dust off tabletops and desks

Sweep the floors of trash

Clean the floors, by mopping and buffing (if hard floors)

Vacuum the floors (if carpet)

Erase dry erase boards and chalkboards and clean them with a cleaning solution

Empty trash cans and recycling bins

Empty pencil sharpeners

Place books backs on bookshelves

Disinfect surfaces frequently touched, like light switches and door knobs

Cap dry erase markers, replenish chalk, discard broken chalk

Refill printer paper
Cleaning The Cafeteria, Halls, And Student Common Spaces
There are many shared spaces in a school Here is a general overview for the steps you should take to clean spots like the gym, cafeteria, halls, and more.
Pick up trash from the floors

Make sure refrigerators are cleared of any old food or food goods that will expire over the summer months

Sweep up debris and vacuum, if carpeted

Clean and buff the floors, if they are hard floors

Clean the windows

(inside) with window cleaner and dry with paper towel

Empty the trash cans and recycling bins

Remove seasonal and outdated information from bulletin boards and walls

Disinfect places that people commonly touch, like doorknobs, light switches, keyboards, and more.

Dust hard surfaces
Cleaning School Restrooms
The bathroom gets a lot of usage at a school. Here's how to sanitize and prep it for the next season.
Clean all toilets

with a disinfectant

Mop and sanitize the floors

Replace all toilet paper rolls

Empty and sanitize trash cans

Sanitize surfaces commonly touched, like light switches, toilet flushers, hand dryers, etc.

Refill tampon dispensers

Clean and sanitize

sinks and counters around sinks

Refill all soap dispensers
Remember To Clean The Teachers' Lounge
At most schools, teachers have spaces where they can retreat to be on their own without students. Here's how to clean a teachers' only spaces.
Clean and disinfect hard surfaces

like desks and tables

Disinfect objects and surfaces shared and commonly touched, like telephones, light switches, remote controls, etc.

Clean out refrigerator and freezer of old food

Wipe and sanitize surfaces in refrigerator

Vacuum and shake out soft surfaces like couches, armchairs, etc.

Empty recycling bins and trash cans

Clean off tables of paperwork and unneeded materials

Put away shared equipment and supplies, like pens, pencils, staplers, staplers, etc.