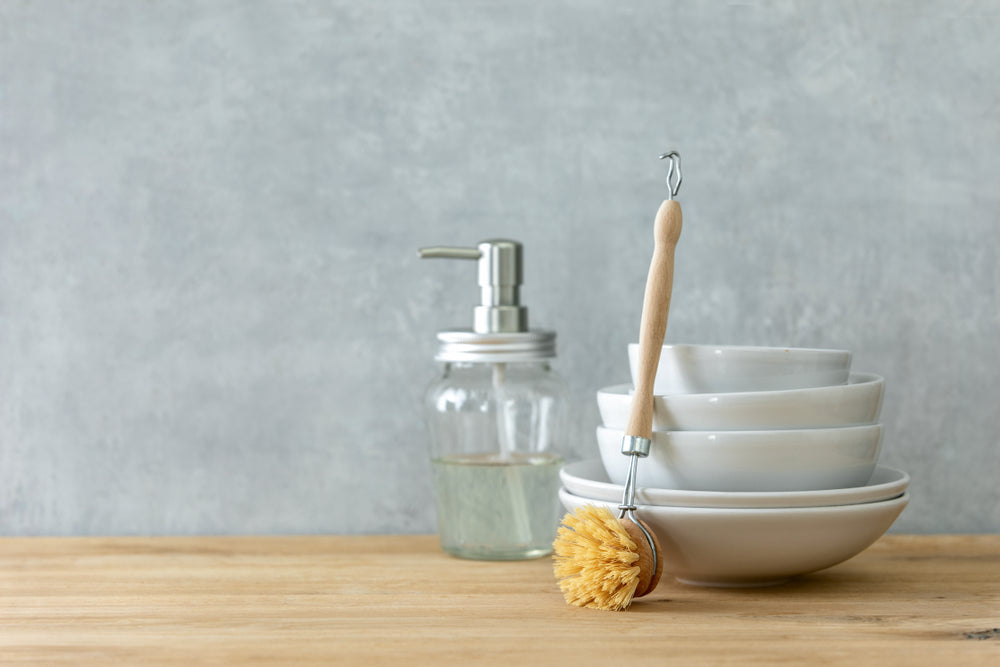 Not all dish soaps are created equal. We created a dish soap that is a cut above the rest with safe enzymes to break down dried-on-food and grease stains. We pride ourselves in making a dish soap that not only cleans, but leaves no scent or filmy residue behind. How did we accomplish this? We tested and tested and re-formulated until we got it just right! And we didn't stop there, we worked with the EPA to make sure that every ingredient is safe for you and your family and we tested our dish soap against both the green and the non-green industry leaders, and guess what? We outperformed them.  
In developing our dish soap, we thought of everything that matters to our customers:
(1) Ability to clean: We don't want you to spend hours or even minutes scrubbing dishes, so we designed a dish soap that quickly and effectively cuts through liquid and solid oils, dried on food, grease and any other food residue you can cook up with minimal scrubbing effort. For best results on dried-on food we recommend letting a small amount of dish soap sit on the residue for a minute before rinsing.
(2) Both environmentally friendly and not hazardous to your health: We started this business partly out of frustration that products that say they are "green" or "natural" just aren't, or maybe they are "natural" but still toxic to your health, or "green" but are actually using ingredients that are not ethically sourced. We knew there had to be a better way, so we decided to do our homework and do the right thing even if it meant a compromise to our bottom line. 
(3) Appealing to the senses: While some prefer a fragrance free soap, many of our customers requested a scented soap, so we have sourced the safest and most divine smelling scents to transport your senses so you can enjoy the cleaning process that much more.
(4) Gentle on the hands: Our non-toxic formula is free of harsh chemicals and gentle on the hands so there is no need for gloves.